I'm a product designer and researcher, currently based at Co-Create in Northumbria University's School of Design.
My research is focused around the experience of people living with Dementia in residential care homes; exploring how designers can help to residents' voices to be heard, increasing autonomy and self-expression through the designed environment of care in our community.
I studied Product Design at Edinburgh College of Art, UK and IKDC in Lund, Sweden. Following art school I worked at Mike Stoane Lighting, Soluis Studio, and Cinimod Studio.
Cinimod is where I really cut my teeth in industry, given the opportunity to work at a scale and pace I'd never anticipated during my studies. Cinimod Studio delivers experiential interaction design rooted in architectural heritage to global brands. Working with the design team from 2014-17 showed me the possibilities of ambitious design to impact perception, transform spaces, and induce joy through serious play.
My AHRC funded PhD in design gives me the opportunity to work closely with people living with dementia and represents an exciting new dimension to my practice, with a deliberate focus on hearing and amplifying some of the quietest voices in our community through design.
Working as a consultant alongside research my practice covers product design, architectural development, digital and 3D design, video production, production design, and animation. I especially love projects which overlap with my research interests, as well as working with third-sector organisations.
If you'd like to chat about getting an idea off the ground, don't hesitate to get in touch.
henry.collingham[at]gmail.com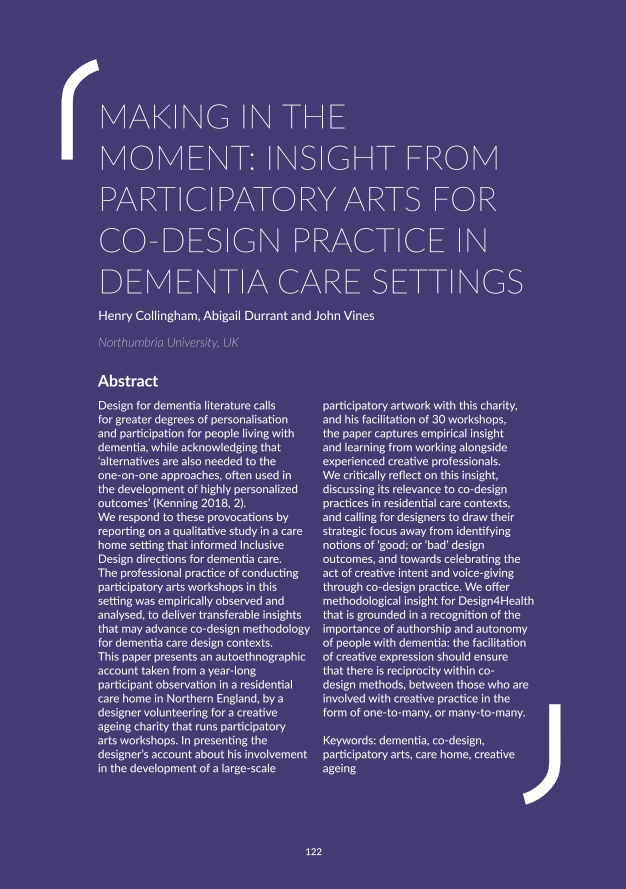 Collingham, H

, Durrant, A & Vines, J 2020, 

Making In The Moment: Insight from Participatory Arts for Co-Design Practice in Dementia Care Settings

. in K Christer, C Craig & P Chamberlain (eds), Proceedings of the 6th International Conference on Design4Health. vol. 1, Sheffield Hallam University, Sheffield,

pp. 122-128

, DESIGN4HEALTH 2020, Amsterdam, Netherlands, 1/07/20. <https://research.shu.ac.uk/design4health/wp-content/uploads/2020/09/D4H2020-Proceedings-Vol-1.pdf>